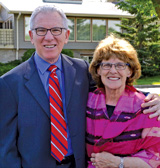 Sue and Pat Keefe
I met Sr. Margie in 1998. Sr. Margie was a faith-filled & determined force who had begun the Cultural Center of Batahola Norte in 1983 in Managua, Nicaragua with Fr. Angél Torrellas, OD. It was a Holy Spirit moment when my parish knew we needed to work with this woman.
IHM began twinning with the Center in 2000. I have found that every twinning relationship needs a cheerleader; I am the IHM cheerleader. I love working with the youth and thus began the 15 annual trips with teenagers visiting the Center. Our relationship with the Center has changed so many lives both in Cincinnati and in Batahola. Over 300 people from our community have visited the Center, and 17 people from the Center have visited our parish. My husband Pat has gone every other year with me to the Center and all three of our children have visited.
I joined the Friends of Batahola (FOB) board in 2002. I have served as recording secretary, corresponding secretary, and now co-president. I pray every day that the work of the Center continues in the political climate that exists today. The administrative team is courageous, dedicated, and selfless. I love the Center, the staff, and students. They represent what is good in this world and have become family not only to me but to my parish and my family and friends. FOB offers hope to the staff and students, and we must continue to be their anchor in this storm that surrounds them.