Summer 2018 Newsletter
The Crisis in Nicaragua
The Crisis in Nicaragua:
An Urgent Message from the Co-Presidents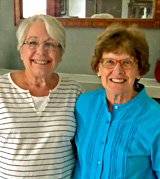 Dear Friends of Batahola,
Sue Keefe and I, both long-term members of the Board, are serving as co-presidents until September 2019, in order to give the board time to select a new long-term president. When we assumed our duties April 1, Friends of Batahola was in great shape, thanks to the leadership Mark Overly provided as president the last four years. The Center was also doing well, enrolling more students, offering diverse educational programing, and supporting a growing and dedicated staff. But life in Nicaragua and at the Center has changed dramatically in recent months. In April while visitors from the Center were in Cincinnati, Ohio, for their annual visit and fundraising events, there was disturbing news of protests and violence erupting in Nicaragua.
Killings, Abductions, Imprisonments, and Torture
Since April 18 when the violence began, the crisis has grown with more disruption in civil society, deaths and abductions, unjust imprisonments and torture, and a collapsing economy. Mission trips to the Center have ceased entirely, including the annual trip made by Immaculate Heart of Mary parishioners together with Archbishop McNicholas High School students, as well as the annual trip made by Saint Ursula Academy students, all from Cincinnati. These mission trips provided major income to the Center and surrounding neighborhood.
As we write this, the safety of the staff, students, and Batahola community is now the Center's daily challenge. The Center remains open to provide a place for all to gather to survive the crisis together. Those of us who have traveled to the Center have always seen it as an oasis of hope…that is true now more than ever.
We are committed to standing in solidarity with the Center.
Friends of Batahola is committed to standing in solidarity with the Center during this difficult time. We are supporting the Center with our prayers, including a weekly prayer service at Immaculate Heart of Mary Church, financially through an Emergency Fund drive which has generated nearly $35 thousand, and by raising awareness of what is happening in Nicaragua through an ongoing communication effort supported by the Archdiocese of Cincinnati.
Please read the three letters below. They provide additional details on the unfolding violence in Nicaragua and its impact on the Center.
3 Ways to Help
Lastly, we are making a call to action. You will find this call at the end of the newsletter. There are very specific ways you can make a difference. Please get involved!
One thing is certain. Our friends at the Center need our prayers and support as never before…to ensure that the Center is standing when the crisis ends, and that it will be able to continue to make possible, for years to come, the New Dawn that Sr. Margie and Fr. Angél envisioned and started 35 years ago.
Please pray for an end to the violence and for lasting peace,
Pat Berning and Sue Keefe
Uncontrolled Violence in Nicaragua Continues: An Overview
Terror, sadness, uncertainty, anger, and confusion inundate our country.
A sociopolitical crisis has been taking place in Nicaragua since April 18, 2018. Nicaraguans were peacefully protesting on that day against a tax increase to fund the pension system, among other issues, when they were suddenly and violently attacked by government forces.
The following day, in response to the attack against the people's civil rights, students took to the streets to peacefully protest. By the end of the day, several protestors were killed and many more were injured. This only encouraged more people to start demanding respect for their human rights.
While the people demanded justice, the government tightened its methods of repression and began:
• Censoring media outlets,
• Vilifying protestors,
• Arming pro-government groups to attack using excessive force,
• Violating the privacy of citizens,
• Practicing extrajudicial executions,
• Paying snipers,
• Obstructing justice,
• Committing arson,
• Denying medical care in public hospitals,
• Arresting people arbitrarily,
• Coercing state employees to participate in pro-government activities,
• Disseminating propaganda,
• Intimidating and threatening leaders of social movements, and
• Kidnapping and torturing protestors.
In response, many Nicaraguans have barricaded their streets to defend themselves from the death squads. As a result, transportation is limited, and there is a food and gasoline shortage. Despite the danger, many civilians continue to peacefully protest in the streets.
At the same time, some of those who oppose the current administration have begun to take the police hostage. From April 19 to June 6, five police were killed. To add to the confusion, some Nicaraguans are looting, committing arson, and even posing as paramilitaries in order to carry out a femicide.
Terror, sadness, uncertainty, anger, and confusion inundate the country. Over 300 people have been killed.
Since May, the government has been in peace talks mediated by the Catholic Church. While members of the Civil Society Alliance, who represent the private sector, students, civilians, and campesinos, have used a National Dialogue as a means of communicating the peoples' demands for early elections and the return to a democracy, the government has used the talks as a means of stalling. After high-ranking members of the Catholic Church were attacked on July 9, the talks were suspended.
The Center continues its mission, as organizations that defend human rights are now more important than ever. On June 25, paramilitaries arrived at the park in front of the Center and opened fire on children playing marbles. Three children were injured, and one adolescent boy was kidnapped and is currently being held in a high-security prison that is infamous for its methods of torture. Despite having a warrant for release and being a 17-year-old street vendor, the young boy is being held and is to be tried as an adult for weapons trafficking.
For the safety and security of everyone, the Center has briefly suspended children´s activities. Despite the fact that most of our students have dropped out of classes due to fear, the Center marches on and is keeping its doors open. We are committed to helping others, especially in this time of crisis. All of our programs and classes are being redesigned to help our students as they navigate through this collective, on-going trauma. We ask for your prayers and support.
A Message and Update from the Cultural Center of Batahola Norte
A Message and Update from the Cultural Center of Batahola Norte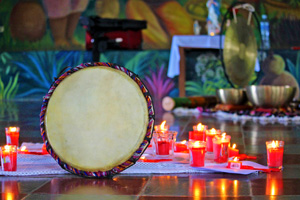 The Center's staff gather for prayer after a violent weekend.
Brothers and sisters in Christ, we are on a pilgrimage together in pain.
Our Nicaragua is no longer the same since April 18, when the first student was reported killed. Since that day, according to human rights organizations, the death count has only continued to climb. (Note: The death count now stands at more than 300.)
Economists estimate that Nicaragua is losing millions of dollars daily since the crisis began. The governmental repression following the protests has hurled the country into disarray and left many nonprofits uncertain as to their futures.
The Cultural Center of Batahola Norte, as a non-governmental organization committed to promoting and protecting human rights, repudiates the situation that has violated rights since April.
The crisis has directly affected the Center and our programming. Our technical, vocational, and artistic courses were suspended, due to the tense atmosphere and violent acts that occurred close to the Center. Throughout the day you can hear different types of firearms going off, which spreads panic throughout the neighborhood. Our gender-based violence prevention team also suspended activities in the Acahualinca neighborhood in an effort to safeguard our team from danger. We are all filled with fear, sadness, indignation, and anguish. Unemployment has increased and many have left the country.
To deal with the crisis, we have prepared an Emergency Plan that hopes to ensure the physical and emotional safety of our students, staff, and facilities.
We have opened up reflection spaces for our children and college students to help them manage their emotions and prevent depression. We are holding workshops on security and emotional self-protection for our staff. In addition, we are no longer sharing personal information, especially photographs, on social networks. 
We are trying to protect our sacred space, in order to have some sort of control over our environment. We have encouraged our staff to care for each other and to strengthen the bonds of trust. We sit down and talk with those who are most affected. We allow ourselves to feel whatever we´re feeling and to cry when we need to cry.
We thank our friends who are always looking after us and urge you to keep praying. Brothers and sisters in Christ, we are on a pilgrimage together in pain, as we remember those who have lost their lives. We are one people yearning for justice, peace, and reconciliation.