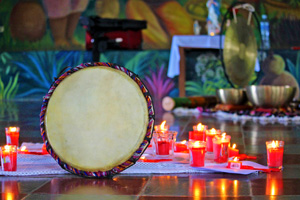 Staff members light candles during a centering retreat to focus their intentions during this time of crisis.

Brothers and sisters in Christ, we are on a pilgrimage together in pain.
Our Nicaragua is no longer the same since April 18, when the first student was reported killed. Since that day, according to human rights organizations, the death count has only continued to climb. (Note: The death count now stands at more than 300.)
Economists estimate that Nicaragua is losing millions of dollars daily since the crisis began. The governmental repression following the protests has hurled the country into disarray and left many nonprofits uncertain as to their futures.
The Cultural Center of Batahola Norte, as a non-governmental organization committed to promoting and protecting human rights, repudiates the situation that has violated rights since April.
The crisis has directly affected the Center and our programming. Our technical, vocational, and artistic courses were suspended, due to the tense atmosphere and violent acts that occurred close to the Center. Throughout the day you can hear different types of firearms going off, which spreads panic throughout the neighborhood. Our gender-based violence prevention team also suspended activities in the Acahualinca neighborhood in an effort to safeguard our team from danger. We are all filled with fear, sadness, indignation, and anguish. Unemployment has increased and many have left the country.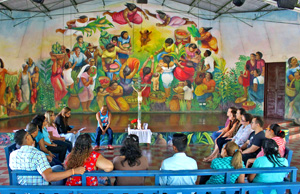 The Center's staff gather for prayer after a violent weekend.
To deal with the crisis, we have prepared an Emergency Plan that hopes to ensure the physical and emotional safety of our students, staff, and facilities.
We have opened up reflection spaces for our children and college students to help them manage their emotions and prevent depression. We are holding workshops on security and emotional self-protection for our staff. In addition, we are no longer sharing personal information, especially photographs, on social networks. 
We are trying to protect our sacred space, in order to have some sort of control over our environment. We have encouraged our staff to care for each other and to strengthen the bonds of trust. We sit down and talk with those who are most affected. We allow ourselves to feel whatever we´re feeling and to cry when we need to cry.
We thank our friends who are always looking after us and urge you to keep praying. Brothers and sisters in Christ, we are on a pilgrimage together in pain, as we remember those who have lost their lives. We are one people yearning for justice, peace, and reconciliation.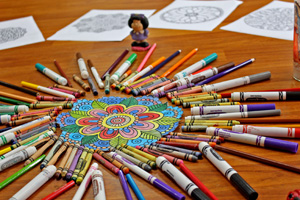 College scholarship students color a mandala during a workshop to help them process their emotions.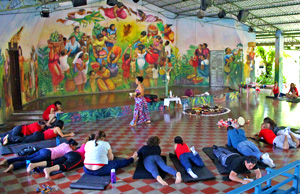 A therapist leads staff members through a workshop on self-care during a crisis.