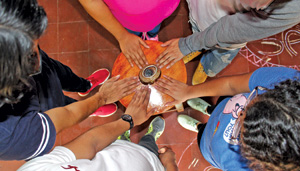 The university students interviewed wished to
remain nameless and faceless, in order to protect
their safety.
Despite the constant fear that Nicaraguans have been enduring since April 18, 2018, their desire for the freedom to carry the national flag, sing the national anthem, or just be a student remains strong. Four university students express their feelings about Nicaragua's 10-month-old political crisis.
Student #1
"The political crisis that started in April is too frustrating and stressful for me," says a 20-year-old psychology student, body shaking while recounting the horrors of the previous months. Some of my friends had to leave the country, and one friend from my neighborhood was murdered with a bullet to his neck by the paramilitaries during the Mother's Day march."
After more than 500 people were killed, thousands wounded, and 600 being held as political prisoners, the government imposed a sense of normalcy on the country. Public universities resumed classes, and some students returned to their classrooms.
Student #2
"I returned to class for two reasons, the first being my mother. I can't ask her to live with the stress of me rebelling against the regime. Secondly, my family is in a difficult economic situation. I'm the first one in my family to go to college, and I felt very pressured to go back and continue studying."
The political crisis has affected the emotions and feelings of every single person in Nicaragua, most especially young college students who no longer have hope in the future and are depressed by the lack of freedoms.
Student #3
"It's been a long and painful process: the crisis, family problems, and my friends' exile have all affected me emotionally. The Center has provided me with a lot of psychological support because I can't sleep. I'm always nervous, and I cry over everything."
Student #4
"It's illegal to use our national colors," a law student said. It's illegal to carry a white and blue flag. If you say, "Free Nicaragua," they can put you in jail or kill you."