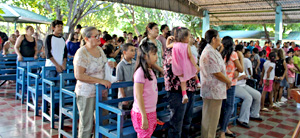 Community of Batahola in Ash Wednesday Mass.
Lent is a time of reflections and repentance. The marking of ash on the forehead on Ash Wednesday means to enter this period of reflection and to seek the mercy of God, especially now in asking God to bring peace, justice and love back to Nicaragua.
On Ash Wednesday, many from the Batahola Norte neighborhood and nearby neighborhoods attended Mass in the New Dawn chapel at the Center and received ashes in the sign of the cross, beginning their Lenten journeys of repentance and sorrow for sins.