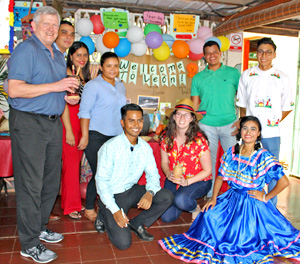 Mark, Kelsey & Professor Michael Quezada (on his knees) enjoying the Cultural Presentation prepared by English students
On March 20, 2019, Friends of Batahola (FOB), Mark and Kelsey Overley, visited the Center. During their week-long visit they bonded closely with students and heard testimonies of how the Center has changed their lives.
Mark and Kelsey also shared laughter, dancing and tears with the staff. Everyone at the Center deeply appreciates their love and commitment to the Center, especially during these difficult times.
Mark is past president of FOB and a current board member. Kelsey is a former volunteer at the Center.