Despite the ongoing crisis in Nicaragua, the Center remains open and brave students, like Virginia Arce, attend classes, unwilling to relinquish dreams of an education and a better life.
People with goals succeed because they know where they´re going. Virginia Arce knows exactly where she's going in 2019. She and 20 other students from the Center graduated from the Basic Adult Education course last November. Because of financial and family struggles, Virginia had never before been able to pursue an education and instead dedicated herself to caring for her siblings.
Years later, her son would convince her to accompany him to the Center which had just given him a scholarship. Upon touring the Center, Virginia was intrigued by the sewing courses but was hesitant because she lacked one of the necessary prerequisites: an elementary school diploma. Not one to be deterred, however, she found the perfect solution and signed up for both Sewing and Basic Adult Education.
"It was a little difficult in the beginning because the two classes are at the same time on the same day. I talked to the Formation Coordinator, and she suggested that I spend half of the class in one course and the other half in the other," Virginia said.
With persistence and dedication, Virginia successfully completed her elementary school degree and now has set a new goal to get her high school diploma. In the long run, she dreams of working as a cashier or in information technology.
"Virginia said, "I always say that if I had studied when I was younger, I would have studied computers and bookkeeping. Although I know it's going to be challenging, I want to continue studying, find work, and be independent."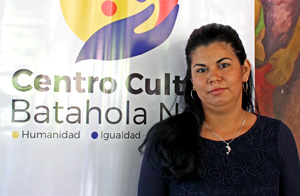 Virginia Arce, a woman with a vision.