Given the political violence unleashed in April 2018, the Center set out to care for children, adolescents, young people and women affected by the ongoing socio-political crisis.
Why does the Center focus its attention on these target populations? On the one hand, children are the most vulnerable of the groups and are affected in many ways by the devastation that accompanies violence. On the other hand, young Nicaraguans have been the main protagonists and the main victims of the government violence. The murdered, imprisoned and exiled have been mostly young students, which has caused the disintegration of the social and family structure in Nicaraguan homes.
For this reason, the Center has carried out a wide range of activities to respond to the specific needs of our target groups. During the crisis, our target groups demanded psychological attention, recreational activities and short-term courses to acquire vocational skills that would allow them to insert themselves quickly into the working world and confront unemployment and the economic crisis.
To give an effective response to the demands of the community, all areas and programs of the Center joined forces to work together to face the crisis. The conflict has given the Center an opportunity to exchange experiences and points of view and to reflect on the current challenges and explore the advantages of working together, to achieve greater cohesion as a team to serve the community.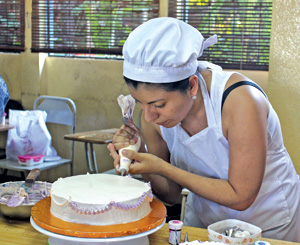 Young woman decorating a cake.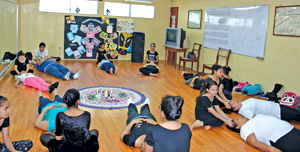 Dance students with their mothers in a session of Biodanza.